The replay feature alows players to rewatch battles you've fought, giving player the oppurtinuty to revise their strategy and help them improve. It has lots of features like replay, pause, fast forward, free camera, fog of war, player select and resource display. You can share your code(getting it by clicking save replay button after your match.
Live Replays
Edit
You can see the live replays in patch 1.57 or higher. It shows the ranked top 100 or lesser replays and it is clickable for us to go to a user's page at the replays page. You can share either yours or one of the top live replays to your friend with only a short link.
Main Features
Edit
Replay - Replay the match of a player vs. a player.
Pause - Pause the match and can play after pausing. This sometimes can prevent from some kind of video lagging.
Fast Forward - Make the play time faster.
Player select - Select the player's name at the top left and right button to change the screen from a player to another.
Sub Feature
Edit
Free Camera-Lets you to look free in the battlefield (the camera moves around according to the player's previous movements otherwise)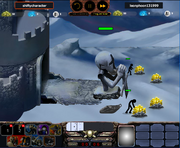 Fog of War-Lets the fog hide the enemy's base. This can decrease lagging.
Resource Display - Displays the resource and population having for both players.
The replay menu used to be the game menu, making it impossible to escape a replay (has been fixed).