If you have Gold Membership or are playing the offline version, Stick War 2 and Stick Empires have duel animations, which are special kill animations. Units are invulnerable while enacting this animation. Currently there is no way to toggle these animations.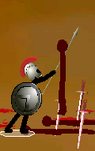 The Spearton stabs the Crawler with his spear when the Crawler jumps. He then proceeds to stomp the Crawler unto the ground from his spear.
The Spearton jumps up and stabs the Juggerknight through the helm.
The Spearton stabs the Swordwrath through the head with his spear.

Ad blocker interference detected!
Wikia is a free-to-use site that makes money from advertising. We have a modified experience for viewers using ad blockers

Wikia is not accessible if you've made further modifications. Remove the custom ad blocker rule(s) and the page will load as expected.